Hi All,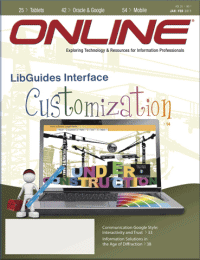 As the title says, my latest publishing is now available via ONLINE magazine. Look for the article on page 25, Computers: Enterprise Solutions for Information Professionals. If you want to understand a bit more about tablet computers and how they can be used by sales, call centers, reference desk, and more…This article maybe a "must"  read for you!
http://www.infotoday.com/online/jan11/index.shtml
In addition, for all LMD bloggers, I want to encourage everyone to use imagery when possible on the new site when posting.  Imagery breaks up text and gives viewers somthing to look at.  It just so happens this post is a good example.  Even if you do not have an article or specific picture that relates to the post, use an image of yourself.  Allow people to get to know you. After all  "Images say a thousand words" and you should want  people to know who you are so they can associate your name with your writing.